Rotasi Bumi Melambat 'Secara Misterius,' Waspada Frekuensi Gempa Dahsyat Semakin Tinggi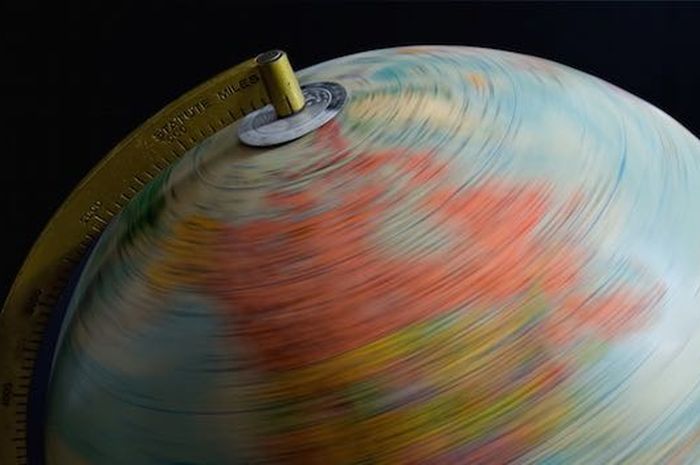 Intisari-Online.com - Rotasi Bumi secara misterius melambat dan hal itu dapat menyebabkan peningkatan frekuensi gempa bumi dahsyat.
Dilansir dari Express.co.uk pada Senin (20/5), para ilmuwan telah lama mengetahui bahwa rotasi semakin Bumi melambat.
Perlambatan ini sebenarnya telah kita lihat secara sporadis sepanjang sejarah, tetapi para ahli sekarang menyadari konsekuensi dari ini: gempa bumi besar.
Kecepatan rotasi Bumi berfluktuasi dengan sangat ringan, ia bisa memanjang atau memendekkan panjangnya sehari dalam milidetik.
Tetapi perlambatan ini meski pun kecil dapat mengakibatkan efek buruk.
Alasan mengapa penurunan kecepatan rotasi dapat menyebabkan gempa bumi besar belum jelas, tapi yang pasti itu disebabkan oleh perubahan inti Bumi yang juga mengubah permukaannya.
Teori lain adalah bahwa Bulan bergerak semakin jauh dari Bumi dan mengakibatkan rotasi Bumi melambat.
Profesor geosains Stephen Meyers di University of Wisconsin-Madison, mengatakan:
"Ketika bulan bergerak menjauh, Bumi berputar melambat."
"Rotasi bumi yang melambat membuat satu hari lebih lama dan juga berpengaruh pada bulan yang lebih lama."
Dalam miliaran tahun mendatang hal itu akan menyetarakan waktu satu bulan sama dengan 47 hari (dalam hitungan sekarang).
Namun, yang diketahui adalah bahwa planet yang lebih lambat dapat meningkatkan frekuensi gempa bumi.
Penelitian dari Roger Bilham dari University of Colorado di Boulder dan Rebecca Bendick dari University of Montana di Missoula mengungkap kekuatan gempa Bumi yang menjadi 7 kali lipat lebih kuat sejak 1900.
Argumen ini ditegaskan dengan bukti pada lima tahun sejak pergantian abad ke-20.
Gempa bumi 7 skala richter semakin sering muncul pada tahun-tahun saat rotasi bumi sedikit melambat.
Prof Bilham berkata: "Pada periode-periode ini, ada antara 25 hingga 30 gempa bumi dahsyat dalam setahun."
Sekarang dalam setahun rata-rata ada sekitar 15 gempa dahsyat terjadi.
Korelasi antara rotasi bumi dan frekuensi aktivitas gempa bumi kuat menunjukkan bahwa ada peningkatan seiring berjalannya waktu.
[intisari.grid.co.id]